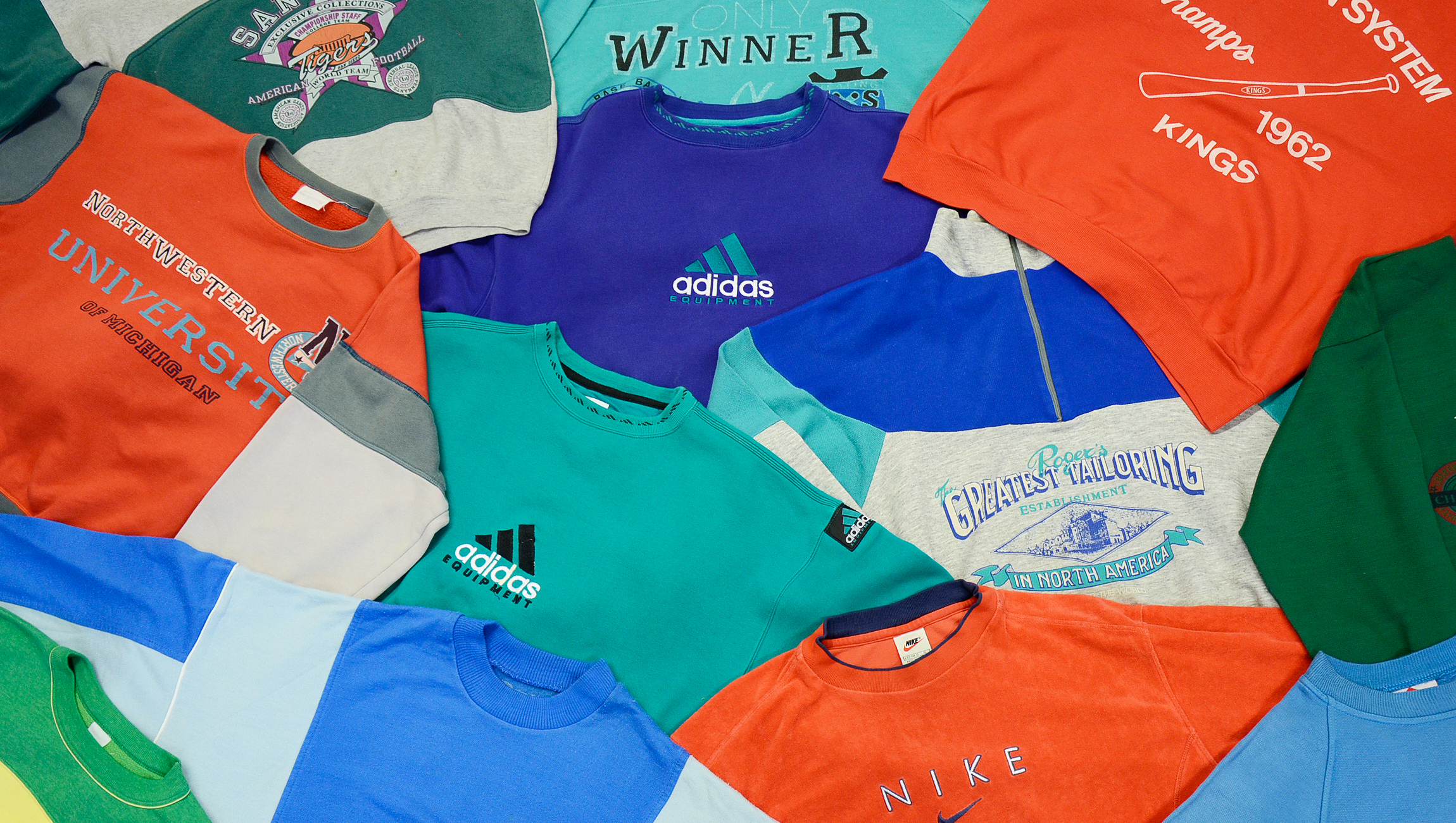 Go for a vintage sweatshirt wholesale adventure!
Start your vintage sweatshirt wholesale adventure at Brasco today. Brasco is located in the Netherlands and supplies your favourite bulk vintage sweatshirts. It's your place to shop for vintage sweatshirt bundles. All our products are shop ready, so they are directly ready to be sold to your own fashionable customers! We give you the highest quality vintage sweatshirt wholesale bundles.
Shop now!
Bulk vintage sweatshirts, buying big = selling huge!
Vintage blank sweatshirts, vintage printed sweatshirts & vintage logo sweatshirts, all you wish for in bulk by Brasco. Supply the best stock of vintage sweatshirts to your customers. If you're looking for the most fashionable secondhand sweatshirts, you're at the right place! Choose from a variety of ladies' cropped sweatshirts, vintage Y2K sweatshirts, men's 80s print sweatshirts, and many more.

The wide range of vintage sweatshirt wholesale we have is available in bulk. We have an up-to-date team of buyers who are into the latest trends in fashion. Is there something you're looking for, but can't find? We would love to help, by taking your request and finding that bulk vintage sweatshirt you've dreamed of.
Top quality at our wholesale vintage outlet.
At Brasco we have a vintage sweatshirt collection that celebrates the charm of yesteryears. The vintage sweatshirt wholesale we have, has a wide range of different styles and is of top quality. You can find top classic logo's, iconic patterns and the latest fashion styles. Each sweatshirt we have, even if it's a vintage blank sweatshirt, it's a piece of wearable history. Buying at Brasco wholesale is offering your customers unique items that will stand out among competitors and keep them coming back for more.

Of course, quality is our top priority. Specialty with vintage items, it's one of the most important things to look out for when shopping wholesale. Our vintage sweatshirts are carefully sourced and ensure they are made to last. Your customers will love the quality, feel, and style of these classic pieces.
Affordable prices + fast and reliable shipping.
To give you a competitive edge in the market, our wholesale prices are carefully set. Without compromising on quality, you can enjoy significant profit margins by purchasing vintage sweatshirts from us. This will help you offer great value to your customers. So you can build brand loyalty and boost sales.


We know as no other that having your stock on time is crucial. We have different shipping partners, so we can ensure that your vintage sweatshirt wholesale order will be on time. You can count on us to deliver your order, no matter the size, swiftly and securely. So you can focus on running your own business smoothly and fashionably.
Order your vintage sweatshirt wholesale today!
Don't miss out on the opportunity to provide your customers with the charm and allure of the different vintage sweatshirts bundles we have. Buying at Brasco means timeless fashion with our carefully curated wholesale collection. Let us be your trusted partner in delivering premium-quality vintage sweatshirts wholesale.


Contact us now, and start your adventure!